Book by Marshall Brickman & Rick Elise
Music & Lyrics by Andrew Lippa
Directed by: Christi E. Sears
Performances:
Dates: May 3, 4, 10, 11, 12(m), 16, 17, 18, 19(m), 23, 24, 25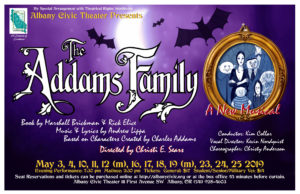 The Addams Family features an original story, and it's every father's nightmare. Wednesday Addams, the ultimate princess of darkness, has grown up and fallen in love with a sweet, smart young man from a respectable family – a man her parents have never met. And if that weren't upsetting enough, Wednesday confides in her father and begs him not to tell her mother. Now, Gomez Addams must do something he's never done before – keep a secret from his beloved wife, Morticia. Everything will change for the whole family on the fateful night they host a dinner for Wednesday's 'normal' boyfriend and his parents (Theatrical Rights Worldwide, 2018).
Christi E. Sears has a string of hit musicals and plays to her credit, including: Annie, Big Fish, Shrek, Young Frankenstein, Avenue Q, Thoroughly Modern Millie, Curtains, Steel Magnolias, The Producers, The Music Man, Hello, Dolly!, The Rocky Horror Show, Pirates of Penzance, Into the Woods, You're a Good Man, Charlie Brown, Bell, Book and Candle, Auntie Mame, and Greater Tuna at ACT. Christi also directed at CCT: Cinderella, Damn Yankees, and Little Shop of Horrors. A long-time administrative member at ACT, Christi has served three terms as president and two terms as treasurer. She currently is our Cheer and Condolence Manager. Christi resides in Albany and has worked for over 24 years as the Accounting Manager at Palm Harbor Homes.
Director's email: cirsey@comcast.net
Gomez Addams: Dean Keeling
Morticia Addams: Mirinda Keeling
Uncle Fester: Ed Beaudry
Grandma: Stephanie Marie
Wednesday Addams: Emily Dale
Pugsley Addams: Adam Keeling
Lurch: Logan Burt
Lucas Beineke: Daniel Lutz
Mal Beineke: Josh Anderson
Alice Beineke: Kim Garwood
The Addams Family Ancestors: 
Michelle Anderson
Nicodemus Flotten
Karlie Guillot
Nicki Ito
Lily Johnson
Shauna Kiefiuk
Tamara Merry
Kasper O'Neill
John Ross
Teza Ross
Isabella Snyder
Jules Snyder
Claire Spotswood
Audrey Spotswood
Jacob Stokesbary
Kayla Stokesbary
Christa Tillman