Miss Bennet: Christmas at Pemberley
by Lauren Gunderson & Margot Melcon
Directed by: Johanna Spencer
Performances: December 3, 4, 10, 11, 12(m), 16, 17, 18, 19(m), 2021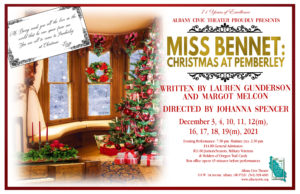 A sequel to Jane Austen's Pride and Prejudice set two years after the novel ends, Miss Bennet continues the story, only this time with bookish middle-sister Mary as its unlikely heroine. Mary is growing tired of her role as dutiful middle sister in the face of her siblings' romantic escapades. When the family gathers for Christmas at Pemberley, an unexpected guest sparks Mary's hopes for independence, an intellectual match, and possibly even love.
Johanna Spencer: johanna.spencer@gmail.com
Johanna Spencer first directed Nickel and Dimed at Albany Civic Theater in July 2008. She has directed and appeared in many other productions at Albany Civic Theater in addition to adapting a couple of radio plays for ACT during the COVID-19 pandemic. She has been acting and directing in the mid-valley since 1982 and is a graduate of the Oregon State University theater program. She resides in Albany with her spouse, Rus Roberts and is semi-retired after 35 years with the federal government.
Mary Bennet: Sanaya Forbes
Arthur de Bourgh: Christopher Ridgely
Elizabeth Darcy: Abby Brockamp Fitzwilliam Darcy: Ander Sandoz Jane Bingley: Erah McMullen Charles Bingley: Alex Asher
Lydia Wickham: Savana Johnson Anne de Bourgh: Emily Anthony