by Charles Dickens; adapted by Ed Monk
Directed by: Josh Anderson
Performances:
December 6, 7, 8(m), 13, 14, 15(m), 19, 20, 21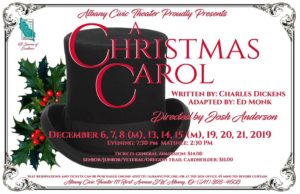 A Christmas Carol is a well loved ghost story of redemption; how an old man's heart can change with the power of Christmas.
Previously at ACT, Josh Anderson directed The Three Musketeers, stage managed for The Odd Couple, and appeared in Shrek, The Wizard of Oz, Avenue Q, Monty Python's Spamalot, Thoroughly Modern Millie, Game Show, Disney's High School Musical, Curtains, and Meet Me in St. Louis. He works as a security officer for the US Department of Energy, and lives in Albany with his wife Christy and new son, Shepard. He enjoys shooting and historical reenactment.
Director's email: jdaa370@yahoo.com
Narrator: Leslie Hogan
Ebenezer Scrooge: Chuck Skinner
Bob Cratchit: Davin Dahlgren
Fred: Daniel Lutz
Christmas Past: Mckenzie Lockhart
Christmas Present: Tom Martin
Marley: Martin Emry
Christmas Future: Josh Mitchell
Young Scrooge: Michael Kidd
Fan: Marie Guthrie
Tom: Titus Metzger
Mr. Fezziwig: David Milner
Mrs. Fezziwig: Dawn Draper
Belle: Brianne Kephart
Mrs. Cratchit: Michelle Anderson
Cratchit Children: Teza Ross & Esme Bohlen
Tiny Tim: Alice Burt/Wyatt Callison
Fred's Wife: Erin Burt
Joe: Nick Kimball
Maid: Sidra Metzger
Boy: Quentin Mitchell 
Party Guests: Maisie Burt, Jesse Leffler, John Ross, Audrey Spotswood