A Gentleman's Guide to Love and Murder
Book and Lyrics by Robert L. Freedman
Music and Lyrics by Steven Lutvak
Directed by: Timothy John Kelley II & Ken Long
Performances:
 January 17, 18, 19(m), 24, 25, 26(m), 30, 31, February 1, 2(m), 6, 7, 8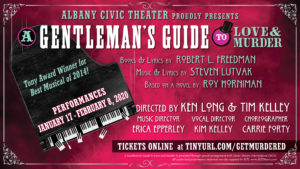 A Gentleman's Guide to Love and Murder is the knock-'em-dead, uproarious hit and the most-nominated show of the 2014 season. With ten Tony nominations and four wins, including Best Musical, Book, Direction and Costumes, it also earned seven Drama Desk Awards (including Best Musical), four Outer Critics Circle Awards (including Best Musical) and one Drama League Award (best Musical).
When the low-born Monty Navarro finds out that he's eighth in line for an earldom in the lofty D'Ysquith family, he figures his chances of outliving his predecessors are slight and set off down a far more ghoulish path. Can he knock off his unsuspecting relatives without being caught and become the ninth Earl of Highhurst? And what of love? Because murder isn't the only thing on Monty's mind…
A Gentleman's Guide to Love and Murder is a murderous romp filled with unforgettable music, non-stop laughs and a scene-stealing role for one actor playing all eight of the doomed heirs who meet their ends in the most creative and side-splitting ways. 
Timothy John Kelley II and Ken Long have been active ACT artists on and off the stage for several years. They each have over 30 years of theater experience (60 years if you add it together) working with a healthy mix of professional and non-professional organizations. Collectively, they've been involved in countless productions in one capacity or another up and down the I-5 corridor. Some of Ken's many recent musical hits were Spamalot, Sweeney Todd, and Meet Me in St. Louis at Albany Civic Theater. Tim's recent hits were The Drowsy Chaperone at the Russell Tripp Performance Center, The Lion, the Witch, and the Wardrobe at Albany Civic Theater and Disney's The Little Mermaid at the Majestic Theatre in downtown Corvallis. They are very excited to be returning to the ACT stage for the 2019-20 season.
Director's email: GentlemansGuide2020@gmail.com
Montague "Monty" Navarro: Colby Montigue/Clayton Hollingsworth
The D'Ysquith Family:  Dean Keeling
Sibella Hallward: Samantha Johnson/Alyson Fewless
Phoebe D'Ysquith: Karen Kumley
Miss Shingle: Jillian Griffith
Miss Barley/Lady Eugenia: Kasper O'Neill
Tom Copley: Colby Montigue/Clayton Hollingsworth
Magistrate: Bill Brown
Inspector: Jacob Birchard
Tour Guide: Jakob Holden
Company Players:
Bill Brown
Jacob Birchard
Jillian Griffith
Barbara Hogan
Clayton Hollingsworth
Jakob Holden
Drew May
Kasper O'Neill
Alice Tucker
Michael Yuan