by Ken Ludwig
Directed by: Colleen Franzoia & Shauna Kiefiuk
Auditions:

 July 11, 12, 13, 2022
Performances:
 Sep. 16, 17, 23, 24, 25(m), 29, 30, Oct. 1, 2022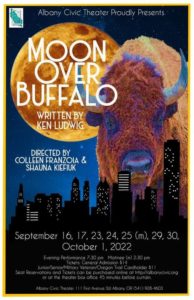 In the madcap comedy tradition of Lend Me a Tenor, the hilarious Moon Over Buffalo centers on George and Charlotte Hay, fading stars of the 1950s. At the moment, they're playing Private Lives and Cyrano De Bergerac in rep in Buffalo, New York with five actors. On the brink of a disastrous split-up caused by George's dalliance with a young ingénue, they receive word that they might just have one last shot at stardom: Frank Capra is coming to town to see their matinee, and if he likes what he sees, he might cast them in his movie remake of The Scarlet Pimpernel. Unfortunately for George and Charlotte, everything that could go wrong does go wrong, abetted by a visit from their daughter's clueless fiancé and hilarious uncertainty about which play they're actually performing, caused by Charlotte's deaf, old stage-manager mother who hates every bone in George's body.
Colleen Franzoia joined ACT in 1987 as backstage crew. Since then she been involved in too many shows to count and has done almost everything both onstage and behind the scenes. Colleen made her directorial debut with 100 Lunches, A Gourmet Comedy. She also directed Bell, Book, and Candle. She lives in North Albany with her husband Jeff and their mini-doxy, Captain Jack Sparrow.
Shauna Kiefiuk has been involved with ACT since 2002. Previously, she has directed The Dinner Party, The Unexpected Guest, Rabbit Hole, The Butler Did It, The Odd Couple and Independence. Shauna has been onstage in several shows as well as musicals. She was the assistant director for Fat Pig, Hay Fever, The Game's Afoot and A Little Piece of Heaven. Shauna also serves on the ACT Board.
Directors' emails: ColleenFranzoia@comcast.net; (Shauna) theatregirl21@yahoo.com
George Hay: Adam Vester
Charlotte Hay: Kathie O'Brien
Ethel: Jackie Weiner
Rosalind: Jillian Alden
Howard: Conner Riley
Eileen: Joy Johnson
Paul: Dan Bushong
Richard: Luke Chicquaye