Book by: John O'Farrell and Karey Kirkpatrick
Music & Lyrics by: Karey Kirkpatrick and Wayne Kirkpatrick
Directed by: Christi E. Sears
Performances:
Apr. 7, 8, 13, 14, 15 16(m), 20, 21, 22, 23(m), 27, 28, 29, 2023
On-Demand Streaming tickets are available for Something Rotten! by clicking HERE.
Individual ticket: $15; Group tickets (2+ persons on a single device): $20
Download the digital Something Rotten program for the play here.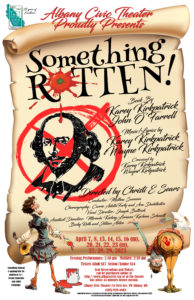 Something Rotten! is presented through special arrangement with Music Theatre International (MTI). All authorized performance materials are also supplied by MTI. (www.mtishows.com)
"Two brothers set out to write the world's first musical in this hilarious mash-up of sixteenth century Shakespeare and twenty-first century Broadway. Set in the 1590s, brothers Nick and Nigel Bottom are desperate to write a hit play but are stuck in the shadow of that Renaissance rock star known as "The Bard." When a local soothsayer foretells that the future of theatre involves singing, dancing and acting at the same time, Nick and Nigel set out to write the world's very first musical. But amidst the scandalous excitement of opening night, the Bottom Brothers realize that reaching the top means being true to thine own self, and all that jazz." (Music Theatre International, 2022)
Christi E. Sears has a string of hit musicals and plays to her credit, including: Clue, Altogether Now (Special Event), The Secret of Chimneys: ACT Radio Play, Mamma Mia, The Addams Family, Annie, Big Fish, Shrek, Young Frankenstein, Avenue Q, Thoroughly Modern Millie, Curtains, Steel Magnolias, The Producers, The Music Man, Hello, Dolly!, The Rocky Horror Show, Pirates of Penzance, Into the Woods, You're a Good Man, Charlie Brown, Bell, Book and Candle, Auntie Mame, and Greater Tuna at ACT. Christi also directed at CCT: Cinderella, Damn Yankees, and Little Shop of Horrors. A long-time administrative member at ACT, Christi has served four terms as president and two terms as treasurer. She currently serves on the ACT Board as Production Manager. Christi resides in Albany and has worked for over 27 years as the Accounting/Payroll Manager at Palm Harbor Homes.
Director's email: cirsey@comcast.net
Nick Bottom: Ryan McWayne
Nigel Bottom: Jonathan McQuay
Shakespeare: Dean Keeling
Thomas Nostradamus: Pat Megowan
Bea: Frankie Caswell
Portia (Puritan): Melissa Gutierrez
Brother Jeremiah: Bill Brown
Minstrel (plus ensemble): Anya Corbitt
Shylock (plus ensemble): Ray Phipps
Lord Clapham (plus ensemble): Sam Sappington
Master of the Justice (plus ensemble): Douglas Hambley
Ensemble: Josiah Barnett, Ed Beaudry, Nancy Beaudry, Noah Camuso, Susan Jones, Shauna Kiefiuk, Christoph Littrell, Jennifer Moody, Olivia Pereyra, Dylan Renfro, Stephanie  Schwarz, Madison Stevens, Christa Tillman, Adam Vester