by Lauren Gunderson
Directed by: Rus Roberts
Performances:
Feb. 16, 17, 18, 19(m), 23, 24, 2023
On-demand streaming for Silent Sky will be available during the run of the show: Feb. 18 – 24.
Individual ticket: $15
Group ticket: $20 (2 or more people on single device)
To get tickets for streaming, go to tinyurl.com/act-silent-sky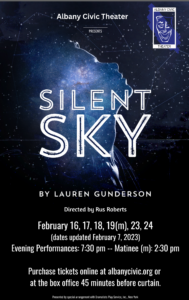 Due to unforeseen circumstances, the performance dates have been changed.
The true story of 19th-century astronomer Henrietta Leavitt explores a woman's place in society during a time of immense scientific discoveries, when women's ideas were dismissed until men claimed credit for them. Social progress, like scientific progress, can be hard to see when one is trapped among earthly complications; Henrietta Leavitt and her female peers believe in both, and their dedication changed the way we understand both the heavens and Earth.
Rus Roberts appeared onstage at ACT as Van Helsing in Dracula, Don Pedro in Much Ado About Nothing, Bob in Beyond Therapy, Duke Felmet in Terry Pratchett's Wyrd Sisters, many roles for The Further Adventures of Hedda Gabler, Lombard in And Then There Were None, Sir Wilfrid Robarts in Witness for the Prosecution,
and Petruchio in The Taming of the Shrew; he also directed Dog
Sees God: Confessions of a Teenage Blockhead, Children of a
Lesser God, The Last Days of Judas Iscariot, Deathtrap, and The
Vampyre, served as assistant director for Paradise Lost and
Found, and worked as crew and dialect coach for The 39 Steps.
He also appeared in Midsummer Arts' Little Red Robin Hood, for
CCT in Bell, Book and Candle and Camping with Henry and Tom,
and as director for A Man For All Seasons; and at LBCC in A View
from the Bridge and The Agamemnon. He lives in Albany with his partner Johanna Spencer.
Director's email: r.e.roberts67@gmail.com
Henrietta Leavitt: Gina Eslinger
Peter Shaw: JJ Halchishick
Annie Jump Cannon: Laura Davis
Margaret Leavitt: Joy Johnson
Williamina Fleming: Leslie Hogan