by John L. Balderston, Hamilton Deane, and Bram Stoker
Directed by: Kayla Thomason
Performances:
October 15, 16, 17(m), 22, 23, 24(m), 28, 29, 30, 2021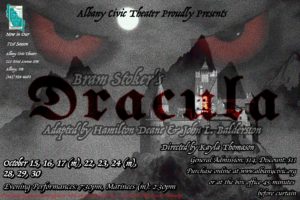 Lucy Seward, whose father is the doctor in charge of an English sanitarium, has been attacked by some mysterious illness. Dr. Van Helsing, a specialist, believes that the girl is a victim of a vampire, a sort of ghost that goes about at night sucking blood from its victims. The vampire is at last found to be a certain Count Dracula, whose ghost is finally laid to rest in a striking and novel manner. The play is appropriate for all ages.
Kayla has been volunteering at ACT since 2007. This is Kayla's directorial debut. Kayla was the assistant director for The Odd Couple, The Butler Did It, and The Unexpected Guest. She is well known for her makeup designs in shows such as The Addams Family, Sweeney Todd, Shrek, Young Frankenstein, Man of La Mancha, etc. Kayla has also appeared on stage in Fat Pig, Independence, Fawlty Towers, Thoroughly Modern Millie, A Love Affair, Love at First Sight, and Measure for Measure. Kayla lives in Lebanon with her husband Josh and their two cats.
Director's email: nissen.kayla@gmail.com
Dracula: JJ Halchishick
Van Helsing: Rus Roberts
Harker: Kenneth Wilson
Dr. Seward: Bill Brown
Renfield: Audrey and Claire Spotswood
Attendant: Nicodemus Flotten
Lucy: Amanda Gandy
Maid: Kaela Bauer